Reza – Visual Artist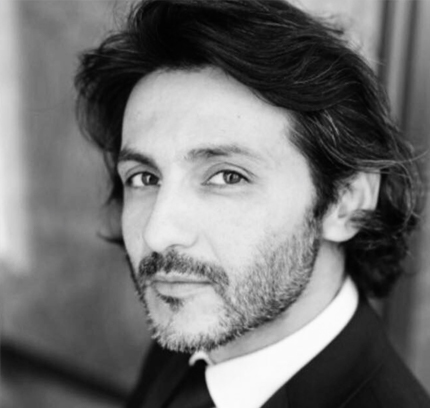 Change and consistency, the universal and the particular, energy in synergy. – If you look at Reza Nassrollahi's heterogeneous artistic work, it is these mental/ conceptual pairings that form the red threads of his work.
Born and raised in Tehran in 1975, the artist moved to Germany with his family in 1989 at the age of 14. He completed trainings as a hair stylist, make-up artist, was active in various areas of the fashion and TV industry, and dedicated himself to the intensive study of art, literature, meditation and philosophy. The liaison of these creative and spiritual fields shapes his work until today.
Reza Nassrollahi has been working as a freelance artist for 10 years; first at his own studio in Cologne, then in Munich, and again and again on his travels. In 2015 he founded his own fashion label, RezalutionFashion, with which he took art literally down from the wall onto the body as a work of art in itself. His bags, gloves, bracelets, shoes and textiles – all hand-signed unique pieces –, attracted media attention at home and abroad, at trade fairs and in exclusive fashion shops.
With the energy of a creative open-minded thinker, and a good feeling for what is and what will come, Reza both wanders through and subverts the world of creativity.
His visual art is characterized by a meticulous study of material property, structures, forms, and a sophisticated play with conventional attributions: Acrylic on fake fur, steel on canvas, paint on cashmere, gold dust, glitter, yarn, leather, light – Reza's creations challenge materiality and conventions and breathe transformative power. How does what we observe change when we feel what we perceive?
Among his most influential experiences in recent years have been Reza Nassrollahi's travels to Asia and his intensive study of Zarathustra's philosophy, especially his three ethical principles of 'good thinking.
Nic – Writer
Nic Leonhardt is a theatre, art, and media scholar as well as a writer and curator based in Germany. She studied theatre and audiovisual media, art history, German philology and musicology at the universities of Erlangen-Nuremberg and Mainz and holds a PhD in Performance and Media Studies.
Nic's has published widely; her scholarly and artistic activities are characterized by a highly interdisciplinary, interarts and intercultural approach. Her fields of interest range from visual culture, global cultural history, transnational studies, visual and performing arts, literature and languages to cultural politics.
She has worked as a freelance writer for more than two decades. Her writing is both fictional as non-fictional and focuses on topics such as the role of arts, photography, reflections about our everyday lifes, work-life balance, wellbeing, cultural encounters, and ethics.
Nic received grants from the German-American Fulbright Commission, the German Academic Exchange Service (DAAD), the German Research Foundation (DFG), Thyssen Foundation and the Universities of Mainz and Munich.
Within the framework of 1001Soul she will be publishing the 1001Soul catalogue as well as the book and audio edition 1001Encounter. During the journey, Nic is taking care of the 1001SOUL and will organize talks with locals.
Dominik – Camera Man
Dominik Schammra is a freelance cinematographer and camera assistant. He studied at the Deutsche Pop (Academy of Music, Media and the Arts) camera assistance, camera, and film editing ) and completed various internships, for example at the video production company Toneart in Augsburg, Augsburg TV, Südkino (Munich). He also gained practical experience in shooting music videos and YouTube livestreams. Dominik has his own channel.
He has been a cooperating partner since January 2021..