In September 2019, the 1001SOUL team set foot on American soil for the very first time. From Munich we flew over the big pond with the aim to explore the East Coast and to see how the 'American Way of Life' would be reflected in Reza's Soul Paintings, what questions people ask about life here, what wishes they have, what dreams they dream.
If you think of America, you usually think "big"; yet the 1001SOUL team set their feet on a rather small town in South Carolina on the southeast coast of the USA for their North American premiere. After a few days for acclimatization and work in tropical warm Florida, we moved along the southeast coast, via Orlando to mystic Savannah, picturesque Charleston, and then towards the inland to tranquil Greenwood, South Carolina.
Already in Savannah and Charleston – by far the most beautiful cities of this coastal strip –, we had noticed the tranquility of the people here as well as their benevolence for each other; and this impression should continue in the days to follow . Through the fluffy cotton fields we drove cross-country, and after a while driving on a rather lonely country road we finally came to Greenwood, a relatively small community where everyone seemed to know everyone.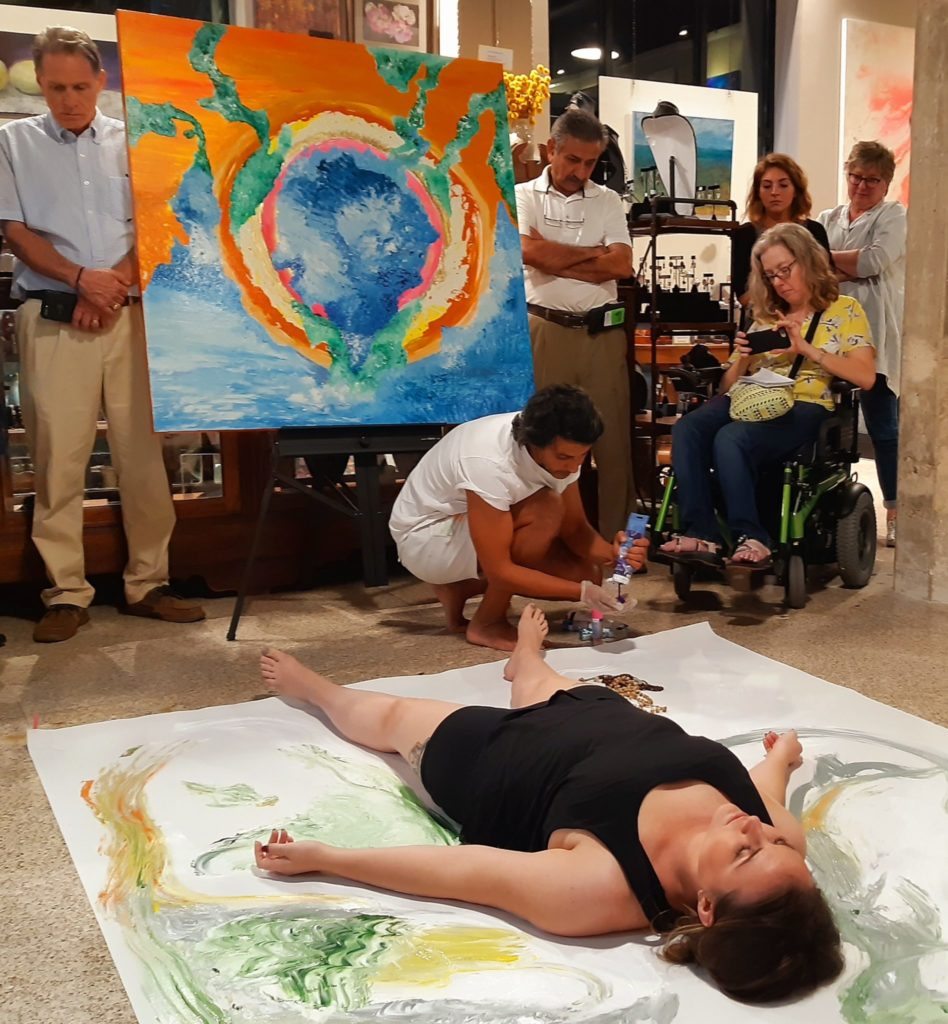 The down-to-earth and considerate attitude of the 'Greenwoodians' also amazed us on the evening of the Soul Painting event: never before we experienced a group of eyewitnesses of 1001SOUL as concentrated and quiet as the visitors who appeared at Reza's live painting in "Uptown" Greenwood. Mary, a young actress from Greenwood volunteered to be painted, the local press reported about the North American premiere of 1001 Soul in South Carolina. The article by St. Claire Donaghy can be accessed here.
The 1001SOUL canvas for North America has been baptized with the colours of South Carolina. Down to earth. On a small scale. With big hearts. We are grateful for our experiences in South Carolina that made the American kick-off of the project so super smooth.
THANK YOU: For their support, help, advice and good conversations in Chicago, we would like to particularly thank the following people and friends: Sammy, Jan, Anne, Jon, Laura, Lori, and Mary as well as all the visitors to our events. You have become a part of 1001SOUL, how beautiful that is!
The threads are spun for the onward journey. Next stop: Chicago at Lake Michigan, Illinois. But more about that in the upcoming Blog Post 🙂
Stay tuned and be good to yourselves!